Light Drawing - Fun & Developing Toy
$14.97
$29.99
SAVE $15.02
Develop Your Child's Creativity & Imagination!
The Light Drawing - Fun & Developing Toy set will help your child reveal his or her creative potential without creating a mess or damaging home decor! With this innovative product, your child can create amazing drawings with a special luminescent stylus - pencils and paints not required! The furniture and wallpaper in your house will no longer be "decorated" with patterns and hand-writing!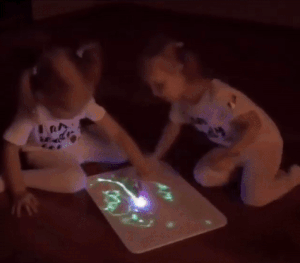 FEATURES
CREATE UNIQUE ART - Take this special tablet with a light-accumulating coating and a flashlight marker, and start drawing! This special tablet

 

lets you and your kids draw using light

.

 No ink needed

!

NO MESS - Without any ink,

 

there won't be any mess when drawing. So 

your kid's clothes and your walls will be safe

 

from being drawn on!
2 IN 1 FUNCTIONS - The Draw with Light's marker has two sides. One end is the

 

light that you and your kids can use on the special tablet. The other end has an

 

invisible ink that you can use on plain paper. The ink only appears under the pen's flashlight.
HOW TO USE:
Touch the light pen on the tablet. The brightness and clarity depends on the distance from the marker to the tablet and the angle of inclination. You can not erase from the work surface, but you can draw on top since each new line will be brighter than the previous one. Drawings and lines completely disappear in 30-40 minutes by itself.
At the other end of the marker is a pen with a special ink that appears only under the light of the flashlight. It can not be drawn on a tablet - use plain paper for this!
The less light there is in the room, the brighter the picture will be.
The recommended drawing session is 15-20 minutes.
Do not paint on the tablet using anything other than the included flashlight marker.
Do not direct the marker light into the eyes.
It's recommended to keep the tablet in a dark place during free time.
SPECIFICATIONS:
Material:

 

PVC
Size: 23cm x 32cm
PACKAGE INCLUDES:
1 x Light Drawing Writing & Drawing board
1 x Flashlight Pen
1 x Tablet